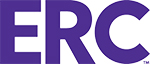 While working at ERC, I initiated, managed, and executed the design of a style guide in order to improve brand consistency and serve as a base for multiple designers. After evolving the ERC brand, I also designed and coded a new website that was focused on driving organic traffic and lead generation.
Other key projects at ERC include:
Identified a new line of business for ERC after analyzing leads, demand, and user behavior 

over a two-year time period. Initiated, designed, and executed this new department for ERC, 

which consisted of an online training series for supervisors and managers
Led and managed a four-phase CRM project which helped evolve ERC's business development strategy, digital marketing tactics, and overall data management
Initiated & executed a marketing automation migration to improve email marketing and lead generation efforts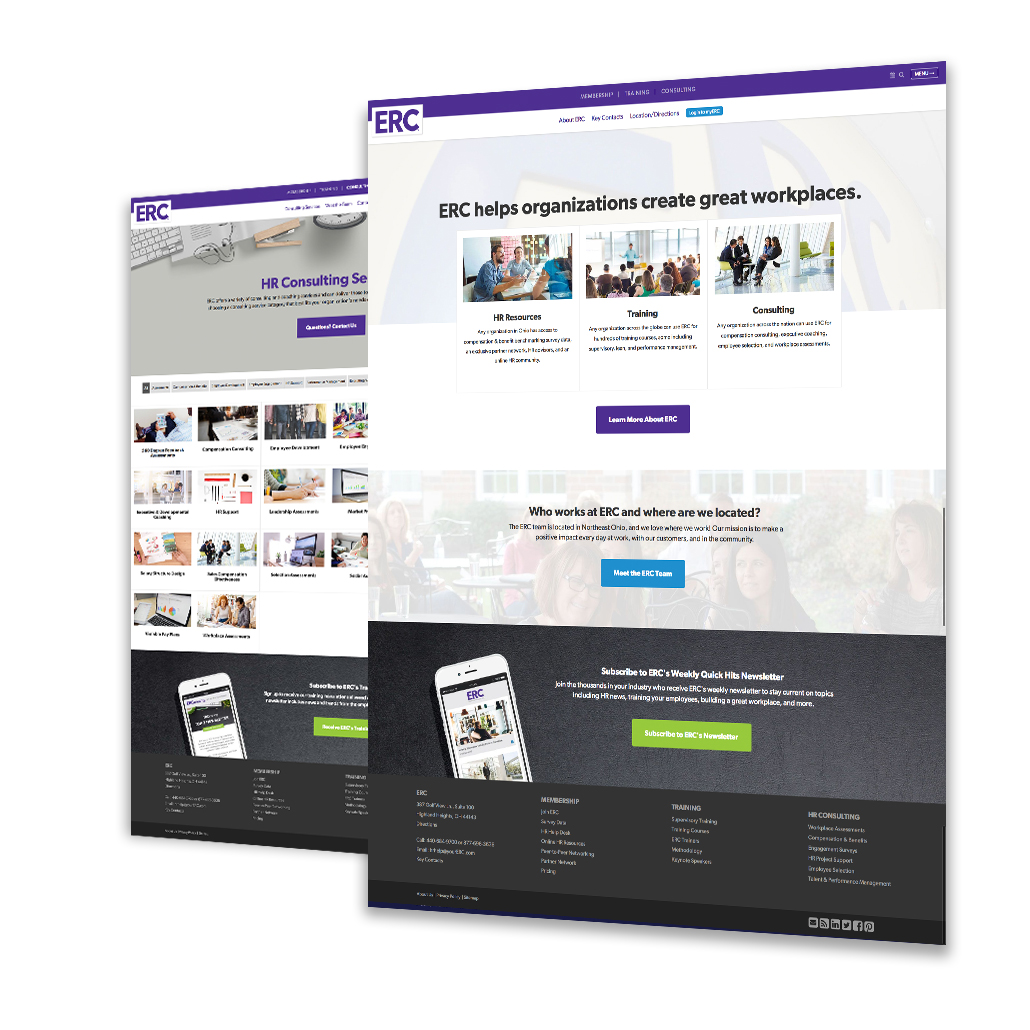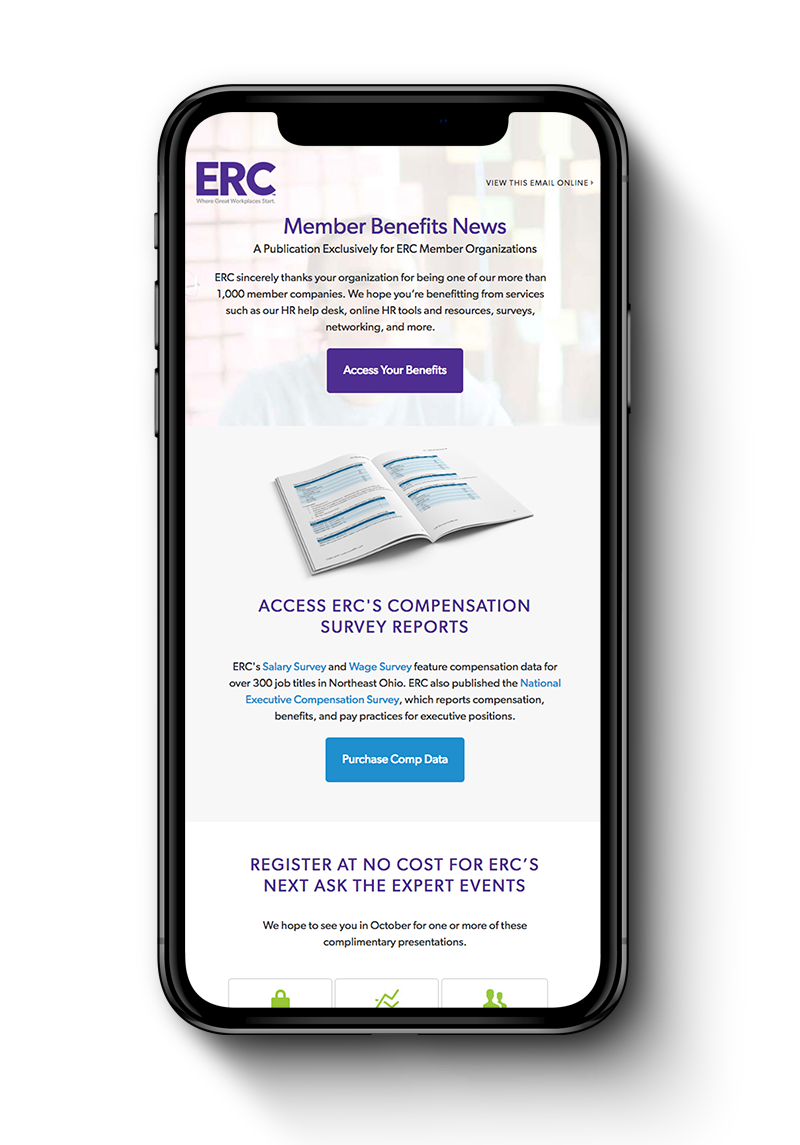 This email was sent to over 2,000 subscribers and served as a monthly update for ERC Members. The email had a 20% open rate, a 8% click rate, and resulted in over 40 people registering for a few upcoming event at ERC.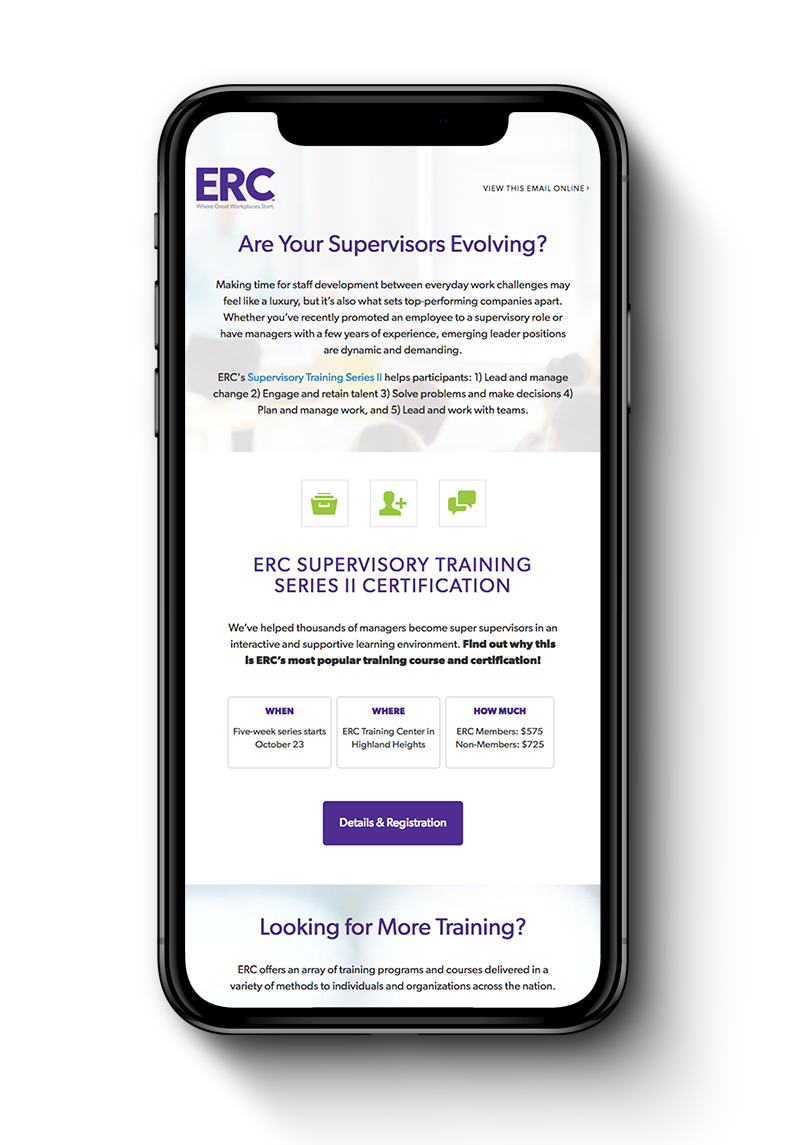 This email was sent to over 1,500 subscribers to invite them to register for a leadership training series. The email had a 15% open rate, a 6% click rate, and generated over $2,000 of revenue for ERC.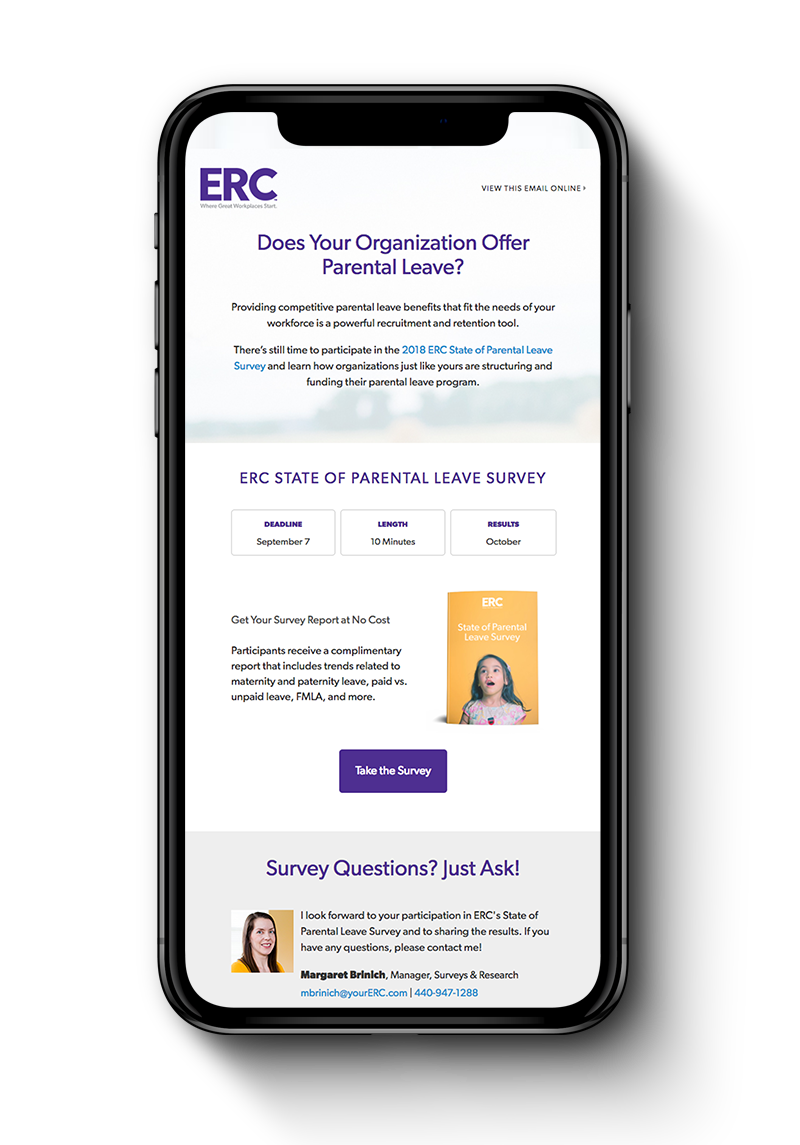 This email was sent to over 2,000 subscribers and served as a reminder to participate in the survey. The email had a 18% open rate, a 8% click rate, and resulted in over 140 participants in the survey.
Some Appreciated Feedback
When I worked with Kerry at ERC, I was tremendously impressed by her creativity and her ability to understand the needs of the business and communicate effective messages to our customers through her design work and writing. She was extremely organized, dependable, and was able to manage multiple projects and priorities with efficiency and poise. A true professional dedicated to her craft and her internal and external customers!
I had the pleasure of working with her at ERC for 2 ½ years. In my role as Vice President of Finance & Operations, I collaborated with her on many technology projects. Her ability to identify technological issues and create effective solutions was always something that greatly impressed me. In an effort to completely overhaul our existing CRM, Kerry oversaw full integration of existing data into a new environment. In addition, she redesigned the entire website in a user-friendly fashion emphasizing the company brand. Kerry's diligent marketing efforts alongside full enhancement of our SEO allowed us to reach clients nationwide and grow our client base. She utilized her technological expertise to make strategic decisions that benefited the organization's overall direction. Not only is Kerry wise beyond her years but her sweet demeanor makes others want to work with her.
I  worked with Kerry while at ERC for about a year and WOW! Kerry is extremely creative, focused, knowledgeable, and a very fast learner. Kerry really took her position and made it her own. She was absolutely a delight to work along side with in our marketing team and a true asset to the team! Give Kerry an idea and she will turn it into a work of digital art! Just a true pleasure.